So B. It
---
---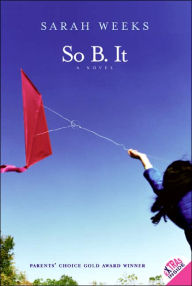 ---
You may also want to look at these other trailers:
So B. It
You couldn′t really tell about Mama′s brain just from looking at her, but it was obvious as soon as she spoke. She had a high voice, like a little girl′s, and she only knew 23 words. I know this for a fact, because we kept a list of the things Mama said tacked to the inside of the kitchen cabinet. Most of the words were common ones, like good and more and hot, but there was one word only my mother said: soof.
Although she lives an unconventional lifestyle with her mentally disabled mother and their doting neighbor, Bernadette, Heidi has a lucky streak that has a way of pointing her in the right direction. When a mysterious word in her mother′s vocabulary begins to haunt her, Heidi′s thirst for the truth leads her on a cross-country journey in search of the secrets of her past.
-Summary from Amazon
Teachers / Librarians:
Want to add this book trailer into your catalog? Click this button to copy a link to add into the 856 tagline of the MARC record.